2014 Asia Sourcing: What's On The Horizon? (A Glove Maker's View)
Posted by ROGER HEUMANN
Last month, I spent a week working at our glove factory in China, and meeting with vendors, suppliers and customers.
I thought I'd share a "boots on the ground" report, on what I'm seeing and hearing, pertaining to the 2014 outlook for Asia manufacturing and supply chain impacts.
2014 Asia Sourcing Outlook from a Glove Maker:  more When you run a global sourcing business, there are lots of sources of information.
But my favorite information source is what I like to call the "Tsingtao Report".
That refers to what I hear over dinner and a beer in Shanghai, as I meet with my raw materials suppliers and vendors where our factory is located.
Informal meetings like this give me a pretty true indication of what's on the horizon for the year ahead.
Based on my recent trip, here's what I'm hearing:
Labor costs:
         We've all read, and seen, that China labor rates continue to rise.  Here is another data point:
Many young women I see in this part of China are beautifully dressed for office jobs.  So we wonder …
Are younger workers less inclined to do manual sewing jobs? Will we see upward pressure on factory wages, due to fewer skilled sewing workers in the future? As sewing workers are aging, will it be harder to hire replacements? 
Leather Costs:
As they say, a picture is worth a thousand words: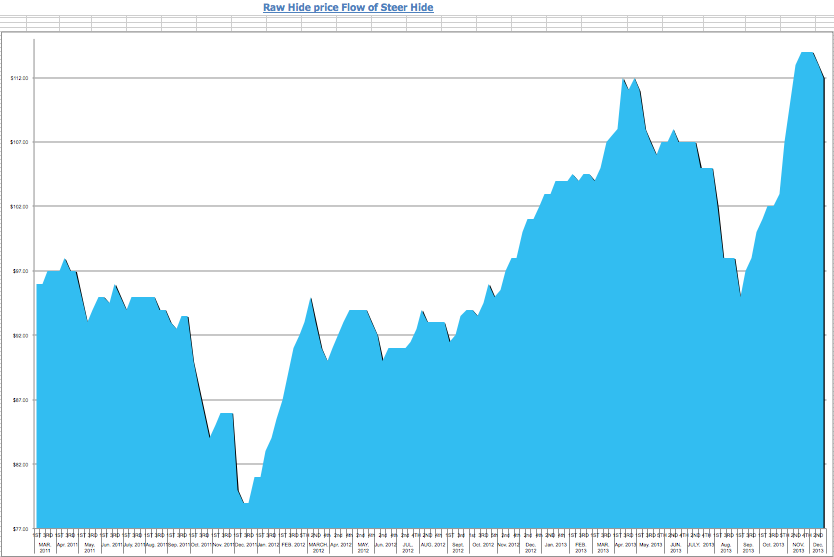 The cost of cowhide has been going up over the last 3 years, especially USA hides. We refer to this as rocket and feather pricing — prices go up like a rocket, and come down like a feather!
On the surface, we see the continuation of this trend. Mitigating this, goat leather prices have been somewhat more stable.
Leather price increases pose some interesting business challenges:
Short term, we negotiate the best leather prices we can, and look for substitutes like goat, to keep finished good prices and retails in line.
We consider Korean hides, Indian hides, Bangladesh hides – even PU coated split leather, suede, lamb, goat … to see which material can be substituted while keeping performance intact.
One positive side effect:  this has made materials innovation a priority for the industry. It's exciting to see new innovation in our materials marketplace for new styles.  Look for cool new outerwear and technical fabrics in 2014.
Currency/Overall Costs
Due to the dollar getting weaker against the RMB, there's a steady erosion of buying power. Unfortunately, that's nothing new, just the continuation of a longer term trend.
On the positive side, some line items like transportation and air freight are holding steady.
Factory Productivity:
We continue to hear about manufacturing moving west within China, and the growth of manufacturing in countries like Vietnam and Bangladesh.
China still leads the pack by a big margin. Labor rates are going up in Bangladesh and elsewhere; unless we see corresponding productivity increases, China will retain its edge.
Important Developments on the Horizon
There's a free trade agreement on the horizon that may change the economics of doing business in the region.  As proposed, certain member countries of the Transpacific Partnership (TPP)  —   Vietnam / USA/ maybe Korea/ Japan/ Taiwan, 12 countries in total, but not China — will gain preferential treatment and trade barriers/ duty levels will be reduced.
My industry contacts and I try to anticipate the potential impact … especially with regard to determining valid country of origin and impact on cost.  What will the impact be on FOB?  Landed cost? On time delivery?  An interesting development for sure … but too soon to speculate. Our guess is it will not be law for at least 2 years, maybe more.
What about you?
Now that we are well into the 2013 Holiday season, what are you seeing and hearing?
Are shoppers spending money at all price points? Are same store sales on pace to plan? Are you placing reorders?
Please weigh in and leave a comment on Asia sourcing and importing trends!
Collection 2019
Sale 70% Off
Third slide