Before Riding Motorcycle In Winter: Do These 3 Things
Posted by ROGER HEUMANN
With a few functional accessories and mods, it's possible to rig your ride to block wind and keep you warmer in winter conditions.
Wearing the proper gear will keep you riding longer, too.
Here are 3 things to consider when preparing your motorcycle to go the extra mile in the chill. 
Mods, Winter 

Motorcycle Gear, Warmest Gloves 

In our experience, successful cold weather riding is a matter of finding the perfect combination of winter motorcycle gear to wear, and modifying your motorcycle to help combat the elements. 

Let's start with your bike: Specifically, your windshield, seat, hand covers and protection for legs and feet.more
Motorcycle Windshield
Prolonged direct exposure to the cold wind can end a ride pretty quickly.
The windshield of a motorcycle is the most effective motorcycle accessory for blocking out the wind at speed. Windshields not only provide wind protection; they're handy for dealing with bugs, debris, and rain, too.
Many motorcycle models have extended or oversized windshields as an optional accessory.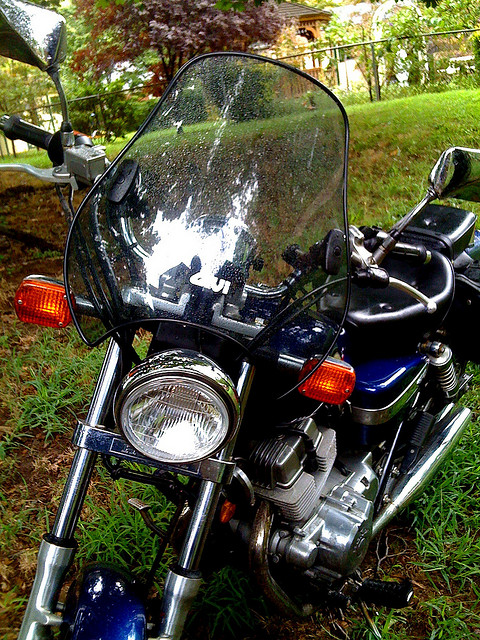 Aftermarket motorcycle windshield companies can also outfit just about any bike, regardless of shape or size. Find the windshield that matches your height and riding style.
Keeping Your Seat Warm
In much colder temperatures, it can be a challenge to keep one's lower extremities warm. Several custom motorcycle seat makers offer seats with heated elements that are powered with your bike's electrical system.
Nothing wrong with going that route — however, there are far simpler (and cheaper) solutions.
.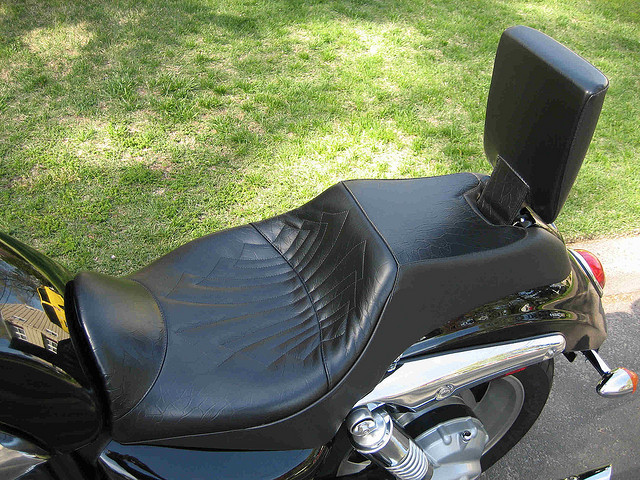 A sheepskin seat covering, like the seat covers that are used in cars, is highly effective.
(Natural sheepskin assists in temperature regulation and also helps to keep you dry by preventing water and moisture from pooling in the recesses of the saddle).
Seat pads come in various sizes to fit all motorcycle seats. The fuzziness of the seat also adds a little cushion for the long haul.  
Hand Guards and Other Hand Coverings
If you're the owner of a dual sport or enduro-style bike, there are companies that make hard plastic hand guards for cold weather riding. If you have another style of motorcycle, possible alternatives to this extra layer above the gloves include ATV mitts and Hippo Hands. Another option: Heated grips.


Keeping Legs and Feet Warm
If your bike lacks leg covering, bolt-on accessories can add some wind protection for cold weather riding. Some options include lower wind-deflectors or a fairing extension to keep wind off your legs.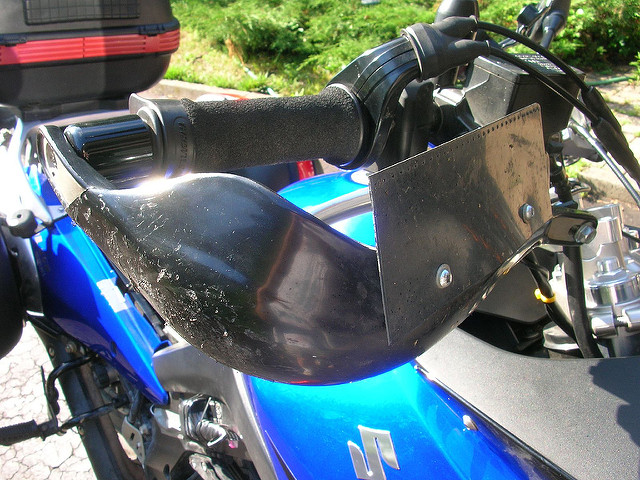 The right bike accessories make cold weather riding a lot more tolerable and your bike more versatile. Just remember to test any add-on accessories before riding longer distances!
What mods does your bike have for winter riding?  Leave a comment and share your ideas with other riders.
Now, onto winter motorcycle gear …
Winter Motorcycle Gear 
When the weather gets colder, a rider needs to go the extra mile in order to stay warm and comfortable while on a motorcycle. 
Ultimately, cold weather protection starts with the right kind of cold weather riding gear.
At a minimum: a combination of windproof jacket and over pants (or leg chaps), warm weatherproof gloves, helmet and balaclava.

 

Fancier solutions include: heated gear (electric heated pant liners, insoles, and socks combined with waterproof, Gore-Tex boots).  And of course, heated gloves if you are so inclined. 

 

And don't forget a good pair of boots and warm socks!
BONUS RIDER TIP:  Don't store your riding gear in the garage where it will get cold. Keep your gear inside the house, so it's nice and warm when you put it on!  
Warmest Gloves for Riding Motorcycle in Winter

If your hands are cold, it's game over.
Selecting winter riding gloves for windchill and precipitation is a priority for every cold weather rider.
To choose the warmest gloves:  Choose a glove with a good gauntlet, and Gore-Tex or other comparable waterproof, windproof, breathable, insulated construction, for ample warmth below 45 degrees.  
Leather gloves are naturally warm and windproof, so they have an edge for winter riders.  The updated  WeatherKing Extra Touch (Style 4102)  is one of our most popular and warmest styles.

Your taste might point you towards something else, like the Aventador (Style 4294) with extra insulation around the fingertips.
And if you have heated grips, choose a style of glove that is a little thinner on the palm side, but still with plenty of insulation on the back of hands, such as our Cold Throttle Glove (Style 4370).

Warm, not bulky: One final note about winter motorcycle gloves: Extremely insulated gloves can also be a bit bulky. The worst thing for a rider is to lose the precision, control and dexterity that comes with comfortable fingers … so try winter gloves on before purchasing to make sure hands and fingers can still grip the controls comfortably.

Learn More: Choosing Winter Riding Gloves
To learn more about choosing winter riding gloves: 
Winter Gloves: Warm Gloves, Warm Hands
Best Cold Weather Glove Styles: Buyer's Guide (2014-15)
Ho! Ho! Ho! Holiday Specials …
 All Olympia Gloves get 

FREE SHIPPING

 

for the holidays through 12/24. Every purchase over $75 gets a 

FREE GIFT with PURCHASE

:  fleece touchscreen gloves!
Visit your local Olympia Gloves Dealer, or olympiagloves.com for lots of ways to beat the cold — 
Collection 2019
Sale 70% Off
Third slide