Favorite Local Motorcycle Routes: New York (Bear Mountain)
Posted by ROGER HEUMANN
This time of year, NYC-area riders need no excuse to escape from the routine and head for the hills.  There's nothing better after a brutal winter than getting out and stretching the legs on a long spring ride.
And there is no better route than the rolling hills and scenic overlooks up and around Bear Mountain, NY.
Located on the west side of the Hudson River in Rockland and Orange counties, the roads around Bear Mountain State Park become a mecca for cyclists once the weather warms.
If you are planning a ride, check out long distance rider and New York native Dan Zinn's favorite local route.  more
Dan Zinn's Favorite Spring Ride to Bear Mountain
There are two routes you could take up from NYC.  The first is to head up the FDR Drive, across the George Washington Bridge and up the Palisades Parkway towards Bear Mountain. But the potholes on the Palisades are legendary after this winter, so we favor Dan's route shown below.
The couple hour journey begins on Route 6 heading north past Camp Smith in Peekskill, New York. (Find your way there via the Taconic State Parkway N, to Route U.S. 9 N and exit on Route 6W).
Once on Route 6, the "Goat Trail," snakes its way ominously on the edge of a cliff over the Hudson River to the Bear Mountain Bridge. Along the way, you'll pass a historic Toll House, a variety of trails leading to the summit of Anthony's Nose peak, and a scenic overlook with panoramic views of the Hudson River.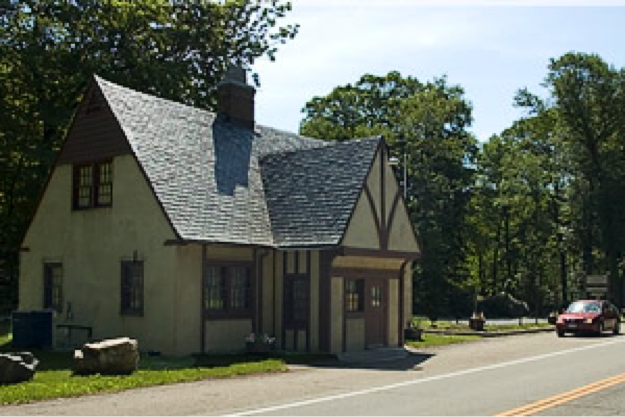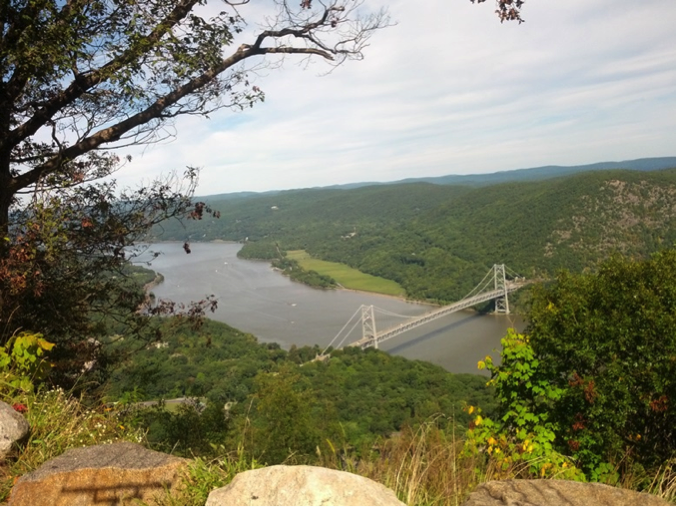 View from top of Bear Mountain
Next, cross over the Hudson from the Westchester side, using the Bear Mountain Bridge. 
After crossing the bridge, you head up the Palisades Parkway to exit 19 where you get lost in the wilderness and find yourself climbing steadily until finally making it up to the top of Bear Mountain State Park (See above.) Look for Perkins Memorial Drive and Tower, which is a great place for exploring and photos.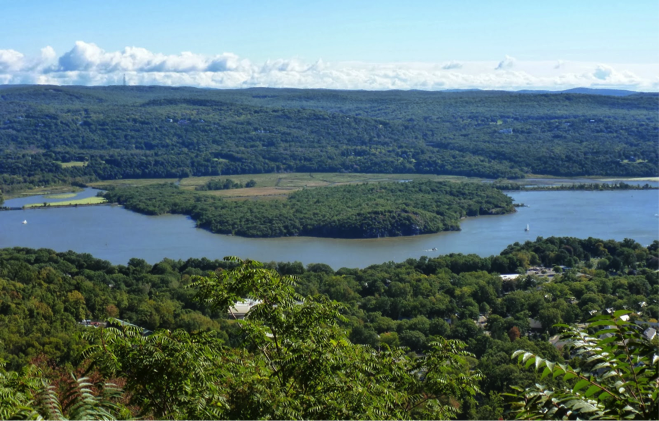 View from US-9W overlooking the Hudson River
After taking in the view, head back towards the bridge and over to Route 9W, which parallels the west side of the river, north to the (Hamilton Fish) Newburgh-Beacon Bridge.  This is a special bridge due to the fact that is a twin span cantilever structure.
Stop in at McGuire's on Main in Cold Spring for a cold beer (just one … !) or a bite to eat, then continue south and back to the Goat Trail (note:  Mc Guire's is closing in May — we'll miss them).
It's a simple ride, but it's all about being back outside, knowing the hard winter is finally over, and that rides like this can now take place every weekend.
Other Places to Explore in the Area
If you are into exploring the local towns, here are some other landmarks of interest:
A fantastic park filled with picnic tables an features a zoo, small museum, carousel, swimming pool, ice skating rink (reopens in October) and a beautiful pond and large lawn perfect for kite flying nd frisbee throwing. There are also some lodges on site should you wish to rest the night. 
Note: Bear Mountain State Park Hours are April 4 – December 1, daylight hours, weather permitting.
Say hi to Dan on Twitter … and let us know your favorite New York motorcycle routes.
Enjoy the ride … follow Dan on Twitter (@Dan_Zinn) … and once your get back to your own home sweet home, drop us a note and let us know your favorite local routes!
To follow Dan on Twitter:  https://twitter.com/Dan_Zinn
P.S. We make over 70 styles of gloves and some with free shipping. To learn more about ourmotorcycle glove styles, visit a local dealer or our online store:
Collection 2019
Sale 70% Off
Third slide