Favorite Local Motorcycle Routes: Tennessee
Posted by ROGER HEUMANN
We all know and love the motorcycle routes on the popular "Top 10" lists that pop up each spring.  
Beautiful as these rides are, their popularity also brings big crowds, dimming some of the charm.
What about the road less traveled?  Is there a route in your own backyard that you return to again and again?
Here's an idea: why not share your favorite local route — and about other rider's favorites —
Today, Marilyn Elmore Bragg kicks things off … with a great ride throught the back roads of Tennessee to a wonderful spot in North Carolina.

 *****
"The Inaugural Spring Ride"

Each spring, there's a ride I plan, which I have taken every year for the last 5 years.
I ride 100 miles to my favorite haunt of all time: Wheels Through Time: All-American Transportation Museum, in Maggie Valley, North Carolina.
My route is one of those amazing twisting, snaking, hair-pin turn kind of routes.

Starting out from Johnson City, Tennessee, I take all back roads, avoiding fast moving traffic and enjoy the morning as I head up into the local mountains and into North Carolina.
People from knee draggers to tour bikers will find this route both challenging and scenic. With plenty of fuel stops and a feeling of remoteness, there is plenty of twisting and turning, beautiful country and great memories.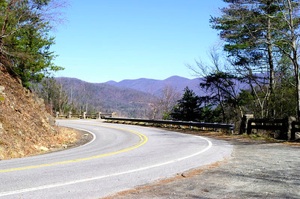 Erwin, Tennessee is the starting point for today's adventure. Once in Erwin, I pick up Tennessee State Road 36 South. This straight forward road is surrounded by lush forest, little rock bluffs and expansive farm land. Riding through this section of road passes plenty of old barns, antique cars, laughing creeks, small game such as wild turkey as well as farm land squeezed in next to the road and creek.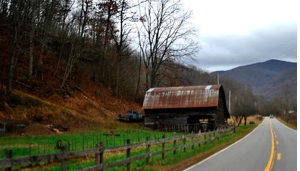 I'll ride a few miles on this road, and then turn right onto TN 352. It's up hill from here! It's a skip and a jump to the North Carolina state line, where the road becomes NC-212.  This is 12 miles of twisting mountain road. Farms and homes share the scenery on the side of the road here. 
At the end of the stated 12 miles, look for a left turn onto NC-208.  You'll know it once you spot the chillng local history sign: "SHELTON LAUREL MASSACRE" –13 MEN AND BOYS SUSPECTED OF UNIONISM WERE KILLED BY CONFEDERATE SOLDIERS IN EARLY 1803 – 8 MILES EAST.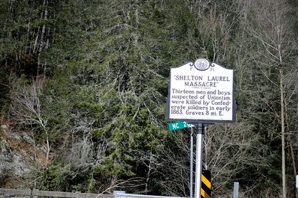 NC-208 is a mountain road that follows a small river. In the spring, fishermen can often be seen standing in waders, casting their flies down river, as they try their skill at trout fishing.  I've stopped at a small falls area along this road and watched otters playing! It's a diverse wildlife habitat. This stretch of road will take you to US-25/ US-70 about 3 miles down the road. 
Keep your eyes peeled … because this is where you're gonna be taking a right that will bring you into Hot Springs, after crossing the French Broad River.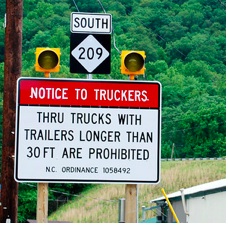 Hot Springs is a good place to stop, grab some food, fill the gas tanks, and catch the next road: NC-209. NC-209 is considered by many to be better than "THE DRAGON".  To entice more riders, folks have given this quirky road a nickname: "THE RATTLER".  The fact there are hardly any riders on this road make it something of a joy to me!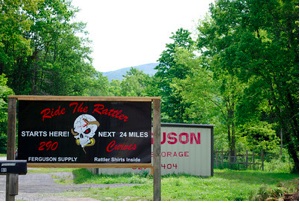 Twenty-four miles of curves and mountainous overlooks are what this road is all about.
At the end of NC-209, you will connect with Lake Shore Drive. As the curves end, the ride continues into Maggie Valley, where the wonders of Wheels Through Time await you. This is a place I spend hours upon hours. The All-American Transportation museum is a great site to explore since it displays many antique American made motorcycles.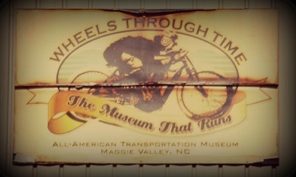 Stay the night in Maggie Valley, or return the way you came … the ride is worth it.
TO SEE A MAP OF MARILYN'S ROUTE, CLICK HERE: 
Ride Safe!
Do You Have Any Favorite Motorcyle Routes to Share? 
Riding at this time of year is quite moving to the soul. This is the first time of year that many people have had their bikes out since last year. For others, the simple notion of knowing SPRING IS IN THE AIR…It's enough to make your heart go-ooooooo …
We'd love to hear about the great routes in YOUR backyard. Got a picture or a route to share? We'd love to have you guest blog.  Leave a comment and get in touch!
The RIght Motorcycle Gear, For a Better Ride

Riding this time of year can be quite confusing. What motorcyle gear to bring? 
Which gloves should I have with me? 
Better gear makes for a better ride.  For a great selection, click below:
P.S. We make over 70 styles of gloves and some with 

free shipping

. To learn more about our motorcycle glove styles, visit a local dealer or our online store:
Collection 2019
Sale 70% Off
Third slide