Gore-Tex Gloves With A "Plus": W.L. Gore Innovations Ahead!
Posted by ROGER HEUMANN
Graphics: W.L. Gore & Associates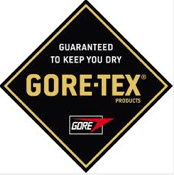 Component suppliers play a huge role in the development of high performance gloves. Technical materials are crucial to how gloves wear and hold up under a wide range of conditions.
So we reached out to our friends at W. L. Gore, to find out what's new at the Gore-Tex® mother ship down there in Newark, Delaware.
Their flagship brand has long been the category leader. But in 2015-16, W.L. Gore & Associates is taking on a much bigger challenge: to improve the consumer's experience, while shopping for gloves.
We're excited to share this innovation …
Retailers; get ready to change the way you think about glove merchandising!
The Glove Consumer: A Retail Glove Merchandising Dilemma

To truly understand this breakthrough, let's begin with how people shop for gloves.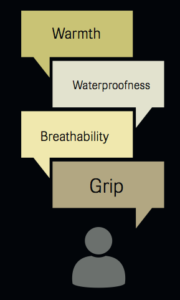 According to new consumer research, glove consumers primarily care about: Warmth, waterproofness, breathability, and grip.
Now picture your customer, standing in front of a wall of black gloves. Beyond fit and size, how do they find the right glove, to optimize performance for their favorite active pursuit?
What's more, most consumers will complete their purchase within 5-10 minutes. How many consumers walk away frustrated, or worse … with the wrong glove for their needs?
Gore has reimagined this process, and it's nothing short of revolutionary.
Guiding Consumers Towards An Informed Choice
The folks at Gore have long known that it's critical to quickly and easily communicate glove benefits at point of purchase. Hangtags and other identifiers helped to a point.
But this consumer research led to an important insight.
By stressing benefits, not technology, retail brands can make it easier for this consumer to choose, value, and buy the gloves on display.
Now, picture a new system: Products organized by performance-oriented benefit, with bold and clear packaging at point of purchase, creating a frictionless solution and more enjoyable shopping experience.
And a more meaningful guarantee of performance too.
Gore-tex "Plus":
 

Reorganizing the Retail Gloves Category

 Enter the new Gore-tex "Plus" branding and naming architecture.

Using color-coded banderoles and swing tags, the system is defined by benefit-driven classifications: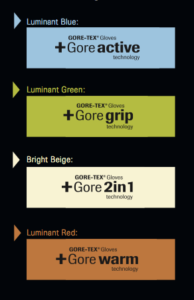 Original Gore-tex Gloves:
Gloves engineered with Gore-tex inserts … durably waterproof, windproof, and highly breathable – guaranteed
 Gore-tex Gloves

 

+ Active Technology:
A system of inner lining, membrane, and outer material, optimized for extreme breathability. This increases comfort, in a wider range of activity levels.
Gore-tex Gloves

 

+ Grip Technology
An innovative, layered construction provides better dexterity and tactility, for optimum grip.
NEW

 

Gore-tex Gloves

 

+ Warm Technology
A system of inner lining, membrane, and outer material, optimized to keep hands warmer, longer … even in harsh conditions.
Gore-tex Gloves

 

+ "2 in 1" Technology
An innovative construction with 2 chambers makes it easy and convenient to change between grip and warmth.
The new color-coded, visual banderole and swing tag system will be applied at the factory.
New Test for "Warmth Seekers", Especially for Snow Sports Gloves
As always, Gore-tex labeled gloves will have to pass strict testing, to provide assurance that co-branded gloves actually live up to performance claims.
But for activities where "warmth" is a critical element, the company has found a new way to help differentiate brand partner gloves.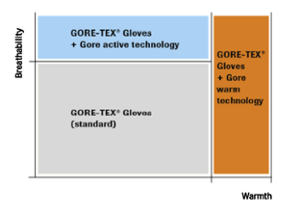 Gore Whole Glove Resistance Test, that can now predict how warm finished gloves will be.
The WGR test will be performed in the Gore labs, to certify gloves for the "Gore-tex + Warm Technology" designation. It calculates the thermal insulation value of a whole glove, taking many factors into account.
This holistic and more accurate new test — and corresponding label — reassures the snow sports consumer that the co-branding stands for something that they care about — less heat loss, and staying warm longer.
Gore has always had a "Guaranteed To Keep You Dry" performance guarantee, but developing a new standard for measuring "warmth", is a game changer. It will help the consumer, and benefit the merchant.
A Company With A Culture of Innovation
We had to ask: "What is it about the culture at W.L Gore & Associates that led to this bold initiative? After all, it would have been easy to simply ensure and improve technical performance, and stop there.
A unique corporate culture is the key. At Gore, the org chart is flat, individuals are empowered, and a good idea can come from anywhere. This has created an innovative and creative culture, and a strongly differentiated brand.
To Learn More About This Innovation …
The new Gore-tex Gloves "Plus" system has been tested in Europe, and Burton is currently piloting the system in the snowboarding glove category. It will be broadly available at retail in the 2015-16 Fall/Winter selling season.
We currently manufacture many gloves with GORE-TEX® technology in our Olympia Motorcycle gloves line, as well as many other brands.
To learn more:
Read the

 

press release … and visit the W.L. Gore & Associates booth at the Snow Sports or Outdoor Retailer show in Jan/Feb of 2015
Contact a

 

certified Gore factory and manufacturing partner

 

like Olympia Gloves, or subscribe to our blog, to stay on top of these and other category innovations.

Collection 2019
Sale 70% Off
Third slide