How A Weekend Motorcycle Trip Brought Us Closer
Posted by ROGER HEUMANN
1,000 miles. 3 days. 3 men. 1 great priceless experience. 
Over Father's Day weekend, my brother and I rode 1,000 with our dad. It wasn't planned as a Father's Day event and we weren't actively looking for a way to reconnect. We're all pretty close and have good relationships. We were definitely looking forward to some miles under our tires, wind our faces and some beautiful Michigan scenery.
The morning we left was cool. Once we gathered at dad's house, we began to look over the map and the general idea for our trip. Dad had been planning possible routes since we first started talking about the trip a few months earlier. He was definitely ready to ride with his sons.
We saddled up and took off, heading north from near-Kalamazoo (Michigan) on our way to Grayling. This was to be our first overnight. Once checked in, we headed west to Traverse City for dinner and to explore some great riding. After having dinner at Mackinaw Brewing Company, we rode out to Old Mission Point. 
One benefit to this ride was seeing all the beauty our home state has to offer. If you're looking for a place to ride, start in your home state. While we'd love to have more bikes come to Michigan, and it's totally worth it, carving the roads in your backyard is a great place to start. Who knows, you might find hidden gems not too far from home.
After a 400-mile day, we were pretty beat. I fully admit I was the first one to fall asleep – my dad outlasted me! It was a great day of riding alongside each other, dad sharing experiences he's had riding in the area, and just connecting with each other and with nature.
The next day was Saturday and our plan was to head northwest to Petoskey and into Harbor Springs, where M-119 hugs the lakeshore of Lake Michigan in what's called the Tunnel of the Trees. This one-and-a-half lane road along the bluff is gorgeous.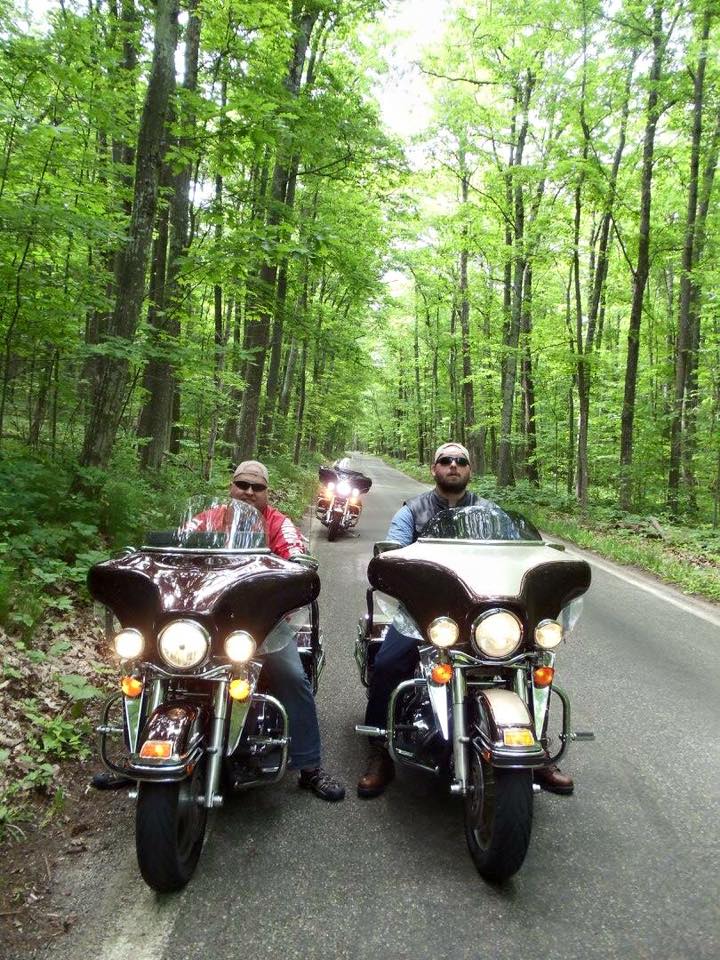 M-119 aka "Tunnel of the Trees"
Riding this road means a lunch stop at Legs Inn in Cross Village; great food and a beautiful view of Lake Michigan with Beaver Island in the distance. After lunch we headed back south on M-119 into Petoskey. Here's where we learned a lesson in long-distance motorcycle riding: be prepared. 
The rain moved in on us, changing our plans to further explore Traverse City. Instead, we donned a bit of rain gear and headed straight for our next overnight destination, Cadillac. 
A second lesson in this ride: sunblock. My brother Doug was sunburned and not feeling well once we got to our Cadillac hotel. He stayed behind while dad & I had dinner down the road. Despite the setback, we all enjoyed a campfire after dinner with good conversation and great company.
Our final day took us through the Manistee National Forest and along the lakeshore into Pentwater. We visited Jim, a Korean War veteran whom I had the privilege of being a guardian on the April 2015 Talons Out Honor Flight. Since it was Father's Day, Jim's family was at his summer trailer and we had a great time visiting. 
The final leg of our journey was the ride home from Pentwater back to Kalamazoo. Once again it was a time to simply let it all go and cruise in the wind with my dad and brother. This quality time with these two men can never be replaced. I'm so grateful for our weekend motorcycle ride. I just wish I'd have packed summer motorcycle gloves – sweaty hands made the hand grips a bit sticky at times. 
The overall lesson is this: take time to ride with someone close to you. I spent the weekend with dad and brother, and came away with the satisfaction that we have it pretty good. We're close and enjoy the same things – riding and enjoying the wind. It brought us closer. At one point my dad said it was the best Father's Day he'd ever had. That's pretty special.
Ride on, friends. 
Collection 2019
Sale 70% Off
Third slide