Leather Price Challenges: Glove Supplier Costs Continue To Rise
Posted by ROGER HEUMANN
Two key leather fairs take place over the next two weeks.  Lineapelle will take place in Bologna this coming week.   APLF (Asia Pacific Leather Fair) will be the first few days of April.
It seems that everyone involved in sourcing and producing leather products will be attending the leather fairs with more keen interest. Why? more
Look at the chart below …  it shows the price trend for the cost of a HIDE of heavy Texas Steer. The price continues its upward trend thru Jan/Feb 2014 … with no signs of abating.
Regardless of the different hides used for shoes/ bags/ wallets/ belts —  prices for different weights all follow the same general trend.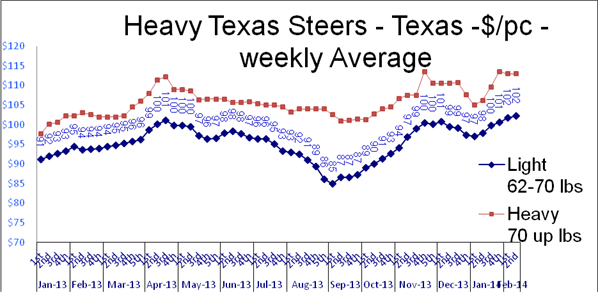 So why go to Italy to visit a leather fair that concentrates on Italian and European tanneries? 
Because the tannery owners all are working on creative solutions to help stabilize leather pricing. Yes, not only are they artisans with the skills to finish leather like a piece of artwork but they are businessmen and know that they need to think of alternatives to survive. 
Some new ideas that one would expect to see in Italy:
a) treat the leather with more fashion surface interest to improve the yields:  ie, exotic embosses; drumming the leather to bring up soft pebble handfeel; handfinishing/tipping to make the product special.
b) add value to the leather to justify the cost but make is so special:  fashion screen printing on the leather, floral prints, and more.
c) use their expertise to create new coated leathers that cost less to produce and have higher yields at the finished goods factory.
We must also consider alternatives to leather:  There are constant advances and innovations in MAN MADE materials.  Look at the transformation of the athletic shoe industry, and the emergence of lightweight high perfomance shoes. 100% leather uppers are no longer the standard. 
Asia Pacific Leather Fair  
www.aplf.com
This fair has picked up in attendance the last couple of years.  It is a very productive show to visit, where you can meet the principles of tanneries from all over Europe and Asia under one BIG roof.  Your legs will get very tired — I guarantee it.       
The traditional tannery locations of Japan, Korea and even China now are being challenged by tanneries from Bangladesh, Pakistan, India etc.  Sourcing from these alternative places must be considered as USA hide prices increase. While these countries always produced leather, today we need to pay more attention to what they have to say.
We can expect to see a significantly larger group of suppliers of man made materials that are viable replacements for genuine leather, at this APLF fair as well.  We all must think outside of the traditional box as leather prices show no signs of stabilizing and some tanneries struggle to stay financially afloat.
Action Plan:  Glove Supplier / Leather Glove Manufacturer
Leather sourcing was never easy but the smart glove supplier and buyer is working together, trying to get ahead of the curve, weighing options more aggressively than ever before. 
Together, we must consider:
South American hides vs USA hides vs China hides vs India hides — purchasing/sourcing hides from different regions of the world to lower base raw materials cost. 
Alternatives to cowhide, based upon end usage (ex: goat skins vs cowhide vs lamb vs buffalo vs baby buffalo etc.)
An aggressive look at manmade substitutes and

 

innovative new materials
Light embossing and other surface treatments that make imperfections less visible, and other creative solutions to improve yield.
Takeaway: What This Means For Our Customers
FOCUS on what might be next for your company, and work with your sourcing and supply chain partners to explore alternatives, as leather costs continue to increase.
If you like this post on cost. you might also like:
Have YOU Got a Glove Challenge?
Need help with sourcing, costs, margins, or improving glove quality?
For a personalized consultation, give us a call. We can help you to value engineer your product — a strategic process designed to help you deal with rising costs and to keep prices down.
Collection 2019
Sale 70% Off
Third slide