Motorcycle Rain Gear: Waterproof Gloves That Keep Hands Dry
Posted by ROGER HEUMANN
Ever get caught riding in heavy rain?
A "chance of showers" is one thing.  But in a downpour, you need good motorcycle rain gear to keep dry, or water will find a way into every opening.
By good waterproof gear, we mean: helmets with faceshield, gaitors, rainsuits, waterproof boots or boot covers. And a ziploc baggie to put your phone in, and some big sturdy trash bags to help keep your larger belongings dry:)
And rain gloves! Wet hands get cold, so you have to keep them dry.
For those times you get caught riding in rain, here's how to choose the right gloves.
Motorcycle Rain Gear: Waterproof Gloves vs. Glove Covers
Some riders simply pack a pair of rubber gloves to go under their gloves … we don't advise it. Your gloves will get soaked, and hands become a sweaty mess because rubber and latex are not breathable.
Some riders choose 2-finger or 3-finger waterproof glove covers … shells that go over your existing gloves, that look like funky lobster claws. The issue with these — even when made with a good material like breathable Gore-tex — is dexterity. You can't have as good a feel of the controls with gloves over your gloves.
In our experience, a true waterproof motorcycle glove is a much better choice than either of these options. They'll keep your hands dry, and when fitted inside your sleeve, keep water from running into each glove.  (If you have a difference opinion, please leave a comment. We love to learn from riders).
You don't have to spend your whole paycheck on rain gloves.
Rain gloves are available for every budget. 
There are differences, depending on how breathable the waterproof membrane is that the glove manufacturer uses, and whether there are nice extra features like visor wipers built into the thumb, closures to keep rain from running down your sleeve, etc. But price isn't a reason not to buy rain gloves. 
A decent pair of waterproof gloves will last for years; you won't regret having them. (Of course, if it rains so hard that visibility becomes an issue, safely pull over and find a place to wait for the worst to pass. Call ahead and let folks know you'll be late. Better than not getting there at all).
Lightweight Waterproof Gloves: "The Typhoon"
When it comes to waterproof gloves, we use 3 different kinds of waterproof linings, depending on the style. The difference is in how breathable, insulated, and windproof they are.  But all are completely waterproof and much better than under gloves or glove covers.
Here's an example of just one style …
The "Typhoon" is a lightweight waterproof motorcycle glove for spring and fall rides, when you need to stay dry but don't need a more insulated glove for really cold weather riding.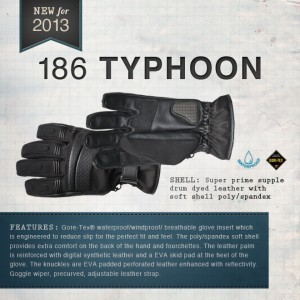 Olympia 186 Typhoon glove features:
Gore-Tex waterproof, windproof and a breathable glove insert, engineered to reduce slip for the perfect fit and glove feel.
Poly/spandex soft shell, for extra comfort on the back of the hand and fourchettes (between the fingers).
Leather palm is reinforced with digital synthetic leather and an EVA skid pad at the heel of the glove.
Knuckles are EVA padded perforated leather enhanced with reflectivity for extra visibility.
Goggle wiper, precurved, adjustable leather strap.
We make 17 different waterproof gloves (our entire line of waterproof gloves can be seen here) and our sister company (Olympia Moto Sports) makes a great line of rain suits.
To learn more, read about the differences between Goretex, Aquatex or Dri-lock waterproof gloves, visit a local dealer or our online store:
Collection 2019
Sale 70% Off
Third slide