Motorcycle Riding In The Rain: 4 Top Reasons To Choose Gore-Tex Gloves
Posted by ROGER HEUMANN
We woke up to cold stinging rain this morning.
And just this week, a rider wrote us, "wishing" his gloves would do a better job of keeping his hands dry.
He described his daily commute, and having to wear soggy gloves (or wait for them to dry out) after a heavy rain.
Sound familiar?
If so, the solution for warm, dry hands is literally at your fingertips.
To travel in comfort no matter what the weather, invest in good waterproof, breathable gloves and gear.
Cold, Wet Hands? Quit Blaming Your Gloves!
We've written about waterproof gloves and gear before … but today, we want to explain why Gore-Tex® is the "best of breed" solution.
The adage "you get what you pay for" certainly applies here …
Gloves with Gore-Tex may cost a little more, but they're worth every penny. Here's why.
Waterproof Motorcycle Glove Types
We'll start by saying that we make 3 different levels of waterproof rain glove, for all budgets:
DriLock: Waterproof and windproof
Aquatex: Waterproof, windproof and moderately breathable
Gore-Tex: Waterproof, windproof and has the highest level of breathability
"Newbie riders" are still learning about the sport. They may choose to start out with a lower cost solution.
On the other hand, experienced high-milage riders know that Gore-Tex is best – but some ask, "is it worth the added cost"?
Here are the facts:
Why GoreTex Gloves?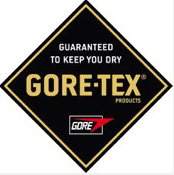 Gore-Tex gloves are gloves that have been engineered with Gore-tex inserts … durably waterproof, windproof, and highly breathable – guaranteed.
Here are the facts:
1. 
You may be wondering: how can they afford this? 
It's simple: Every style that carries the Gore-Tex brand has to pass special testing AND must become re-certified each year.
2. High Standards for Brand Partners:
The researchers at Gore have discovered a way to measure what riders have known for years:  wet hands are cold hands. 
Brands have to meet Gore's strict glove construction standards, if they want to co-brand their product with Gore-Tex, to ensure that it performs as labeled.
3. Technically Superior Material: 
For reasons that you can learn about on the W.L Gore & Associates website, the Gore-Tex material has the greatest breathability, insulation and durability of any competitor.
4. Rider Tested:
Ultimately, the Gore-Tex gloves and gear have to pass the most important test of all — yours.  Check motorcycle forums and rider reviews.  Experienced riders confirm that Gore-Tex is best, when it comes to keeping hands comfortably dry.
Motorcycle Riding in the Rain:
No matter which type of rain glove you choose, here's what to look for:
  A waterproof liner that is tacked to the interior of the glove, so it won't turn inside out when you remove the glove.
If you opt for a leather glove, it must be waterproof (not just water resistant) … with sealed seams.

Note: Riders can make standard leather gloves more water resistant by rubbing in Nikwax to help repel water for a few minutes in light or moderate rain. This won't do much in heavy rain or at full speed, but it will help in a pinch.
You can always pull over and wait for the rain to slow down a bit … but with the right waterproof gear, you won't have to!
Common sense and good motorcycle rain gear will help you to navigate safely — and comfortably — in the rain.
*****
You may also be interested in reading: 
21 Tips for Motorcycle Riding in the Rain
We make 18 styles of waterproof gloves, some with free shipping — and our sister company (Olympia Moto Sports) makes a great line of rain suits. To learn more, visit a local dealer or our online store.
Collection 2019
Sale 70% Off
Third slide