New 2014 Winter Riding Gloves: Weather Protection, Plus Touch
Posted by ROGER HEUMANN
It's about to start getting cold out there. 
The only thing between you and hands that are chilled to the bone, is a good winter riding glove.
You might like good touchscreen winter gloves — built with plenty of weather protection.
Why touchscreen? Because when it freezing outside, it really sucks to take your gloves off to check messages, make a call or swipe the GPS.
Winter touchscreen motorcycle gloves are designed to keep warmth in, and keep cold, wind and wet out.
Here are tips for cold weather riding, and 2 new gloves that'll do the trick. more
Experienced Rider Strategies For Staying Warm and Dry…

The riders who visit the Olympia Gloves Facebook page are a pretty experienced bunch. They had a lot to say when the topic of cold weather riding came up recently.
We pass along these tips: 
Zip tie

 on a pair of plastic bark busters to keep my fingers out of the wind. The key to comfortable riding is always preparation.

Prep for the existing AND for conditions that may deteriorate or improve.

Wear your gauntlets until you warm up …

Wear Heated gear 

A good windshield, the right clothes, heated grips and lower wind deflectors 

With my hurricane proof ripstop nylon windbreaker parka, pants and gloves, I'll be ready for anything. Just let me layer up underneath …
Do you ride until snow and ice hits the ground? What's you best strategy for keeping warm and dry?
New for 2014: 2 NEW Winter Riding Gloves … With Touchscreen

Two of our bestselling  gloves have been re-engineered for Fall/Winter 2014.
1. The NEW ALL SEASON II Glove: Warmth without bulk … plus Touchscreen.
Blocks the wind, allows your hand to breathe, adds warmth without bulk.
Good gauntlet glove for temps in the 40's, and colder when combined with liners & heated grips. In other words, a great all-season glove for year-round riders, perfect for all but the coldest winter months.
Features: 
The thumb and index finger on both hands are touch enabled with nanotechnology for easy use of all touch screen electronics.

Super premium drum-dyed leather

Wind-Tex comfort liner, for windproof, water resistant and breathable comfort.

Lightweight Thermolite insulation for warmth.

Silicone gel anti-shock skid pad, with high abrasion-resistant surface.

Extended length and Velcro closure for best fit.

3-blade shield wiper for better visibility.

Box finger panels for comfor

Reinforced palm and thumb and padded knuckles, for protection.
This glove is both waterproof and warm: because the rider who rides in all conditions deserves a glove as tough as he is.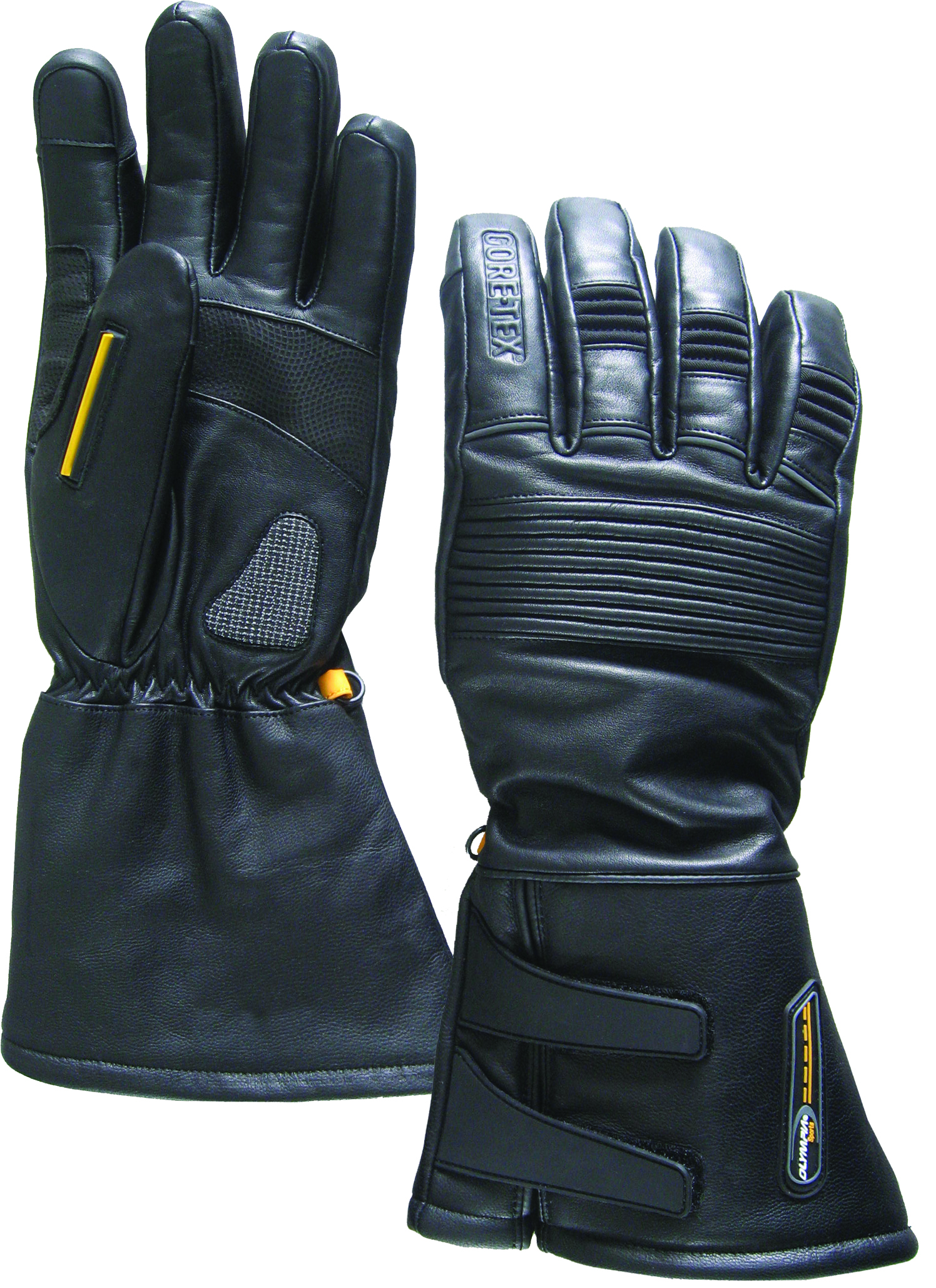 Features:

Premium drum dyed leather, for a supple feel and durability

Gore-Tex® glove insert, for waterproof, breathable, and windproof weather protection

Full-wrap Primaloft® insulation, for extra warmth

Touch enabled fingertips on thumb and index finger, for precise swiping and conductivity

Digital embossed palm and thumb patches for advanced grip and durability

Reflective knuckle trim, for extra safety

3-blade shield wiper, for better vision

Silicone gel anti-shock skid pad to absorb "vibe", with high abrasion-resistant surface for extra protection

Brushed tricot lining, for comfort and moisture management

Precurved box construction fingers for comfort Double Velcro® straps for secure closure
For a comparison of 16 winter riding gloves, you may like:
Or to shop for gloves;
Collection 2019
Sale 70% Off
Third slide