Riding A Motorcycle In The Rain: 5 Safety Factors For Stormy Weather
Posted by ROGER HEUMANN
If you ride, sooner or later you'll get caught in the rain.
To avoid getting soaked, and feel more confident while riding in the rain — it's a good idea to prepare for wet weather well ahead of time.
There are two aspects to this: 
how to ride safely on wet surfaces
what motorcycle gear to have on hand when rain is in the forecast. 
We wrote about rain gear last week … so today is all about wet weather riding preparedness, and riding skills.
Here are steps you can take to ride safe and stay dry.
5 Safety Factors for Riding a Motorcycle in the Rain

There are 5 important factors for safer riding on wet surfaces:
1. SPEED
Slower speeds help maintain traction and control. 
Slow and steady should be your goal
Don't let the drivers behind you pressure you to move faster then you wish. 
Don't tailgate — It takes longer to stop, so go slower and plan to give yourself the stopping distance you need — and watch out for tailgaters as well. 
Use four-way flashers in heavy rain or fog.
2. ROAD CONDITIONS
During the first 10/15 minutes of rainfall, roads are generally slickest. Always scan ahead as you ride — and here are some other things to look out for: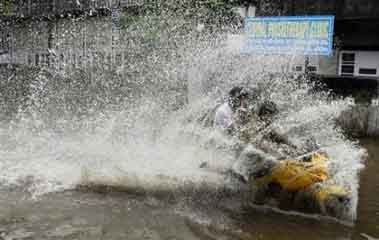 Use extra caution right after it starts raining as that's when the roads are the slickest
Working windshield wipers of oncoming cars clues you in to what's ahead.
Looking for that special "sheen" aka

 

beading on asphalt

 

reveaiing slippery conditions.
Wet leaves add to slipperyness.
Potholes

 

fill

 

with water

 

— 

 

be aware of them, especially at the end of a hard winter when new potholes seem to spring up overnight
Water often pools in low spots. For instance,

 

underpasses can get inundated with a deluge of water causing floods. Although many riders seek them, be cautious of these temporary shelters.
Passing cars may soak you as well, so avoid riding in their wake
Painted center and lane stripes, cross-walks stripes, metal covers in work zones all are VERY slick when wet.
 Don't be a hero — a coffee break to ride out the storm is a smart move. Stop and take cover, especially once spotting lightning.
3. VISIBILITY
Visibilty is important in raining weather, so wear reflective gear — jackets as well as gloves. Yellow hi-viz gear is especially good when visibility is poor.
Reflectivity on your bike and your apparel also helps drivers who cannot see clearly in fog and rain.
And let's not forget YOUR ability to see … that little squeegee on your waterproof gloves is there to help keep your visor clear — use it!
4. BIKE HANDLING
As the saying goes, brake earlier and throttle up slower.  You should be relaxed and be as smooth as you can on the throttle and brakes.
You are not going to be able to corner as tightly as you may on dry pavement, even with features like traction control, tires, ABS.  A good tip from the Motorcycle Safety Foundation is completing turns before accelerating.
While it will be unfamiliar at first, practice makes perfect. Practice riding in slick weather in a protected area, to further hone your skills.
5. TIRES/BRAKING
You need to trust your tires — once you acquire some experience with the available traction in the wet then your trust of your tires (and your bike) will improve. 
Brake gently. Pump your brakes to prevent aquaplaning.
Stopping distance is longer — plan for this
It is wise to look for tires that shed water — the design and depth of the tread on your

 

tires

 

is especially important. you will appreciate the grip of real rain tires.
As always, check tire pressures as well.
What do you do to prepare for inclement weather?  Do you have any tips for riding on a rainy day? Leave a comment, and ride safe!
P. S. Waterproof Motorcycle Gloves and Gear:
If you are reading this, you likely already have a set of rain gear in your panniers to pull on, just in case — including waterproof rain gloves.  But if not …
We make 17 styles of waterproof motorcycle gloves, for every budget. WIth sealed seams, and inner liners that are guaranteed to keep your mitts dry in the wet.
To learn more about waterproof gear, click here. To learn how Gore-Tex compares to more basic waterproof liners  — click here.
P.S. We make over 70 styles of gloves, many waterproof, and some with 

free shipping

. To learn more about our waterproof motorcycle glove styles, visit a local dealer or our online store:
Collection 2019
Sale 70% Off
Third slide