Tech Gloves Guide: Touch Screen Gloves, For Every Season
Posted by ROGER HEUMANN
Combining tech with riding brings up an interesting debate among motorcycle riders.
Some say: "Leave the phone and distractions at home and ENJOY the ride."
On the other hand, A recent reviewer of one of our leather touch screen gloves said:
"Wish I had these on my cross-country ride … no more holding one glove between my teeth!"
If you ride with a GPS or smart phone – and today, that's most of us — touch screen-enabled gloves can be a really nice feature.
Like anything, there are lots of choices. Here's how to find the right touch glove for your needs and budget.more
Motorcycle Gloves: Touch Screen Glove Technology
Touch screen gloves were developed a few years back for a tech-enabled world. But here's the first thing you should know: touchscreen technology has changed in recent years.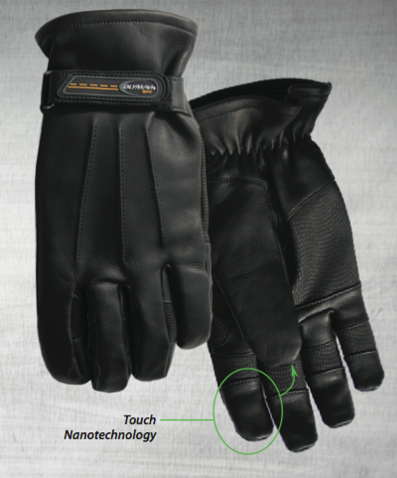 When touch screen gloves hit the market, they were made with special conductive thread or fabric sewn onto the fingertips.
Today, this functionality can come from the leather (or other fingertip material) itself, when it's been specially treated to be conductive.
The nice thing about this newer, conductive leather technology is:  
There are fewer seams to compromise the strength of the glove, irritate your fingertips, or let water in when exposed to the elements
The nanotechnology-enabled leather is more tactile, so it's easier to swipe or pinch the screen on your device.
The downside: The conductive finish can wear off in cases of extreme abrasion. But for most riders, they should work well, and last for years.
The older models still work … it's all a matter of personal preference, and budget.
Here are 9 touch screen glove options, for every budget and season:
1. DIY Leather Touchscreen Gloves
Let's face it … we all have a favorite pair of leather riding gloves. But if they're older than 5 years old, they're likely not touch screen enabled.
Why not convert the gloves you already own into a touchscreen glove?  For around 20 bucks, you can.
While we can't vouch for results with these products, check out a DIY solutions, like Nano tips or Any Glove.
2.  Touch Screen Gloves for Warm Weather 
In warm weather, motorcycle riders need a glove designed for maximum airflow. That means lightweight mesh, perforated leather or vented construction.
There are lots of great touch-enabled warm weather gloves, that offer a combination of useful features. Here are two good choices:
For riders with issues with hand pain and need a gel palm — this "Touch Screen Glove"  is a summer glove with a mesh back, leather palm and silicone gel padding and reflective piping.
(The "Ladies Touch Screen Glove" is a similar glove made for a woman's hand.)
For riders who prefer an all-leather touchscreen glove, the Lined Roper "Touch" has a light lining, cooling perforations, and touchscreen capabilities that come from the leather itself, vs. conductive thread.
(The 110LT Women's Lined Rose "Touch" is a similar lined leather glove, but made for a woman's hand.)
3. Fleece TouchScreen Gloves, for Light Warmth:
In the fall or early spring, a fleece glove with touch screen tips offers light warmth. For instance, these Fleece Touch Gloves. are perfect for chilly mornings or evenings.
(The  Women's fleece version is a similar glove,for a woman's hand.)
4. Winter Touch Screen Motorcycle Gloves
As temperatures dip and it gets colder where you ride, you're going to want warmer winter gloves! Touchscreen is a nice feature, so that you don't have to take off your gloves when checking your GPS or messages.

For a good value in a warm touch glove for winter, check out this Cold Weather Touch Screen Glove.
With features like both Thinsulate insulation for warmth and Aquatex for waterproof, breathable, windproof protection, you'll be glad to have a pair for cold weather riding.
P.S. Since it's an older style in our line up, it happens to be priced at 50% off, as a closeout, to make room for newer styles! (Coming Soon: two new winter touchscreen gloves in October)
A final note on tech gloves, and motorcycle riding:
Take the time to pull off the road before texting and swiping. As the motto goes, "It can wait." Stay connected … but ride safe!
For more information on touch screen gloves, you might also like:
Leave us a note — let us know what tech you can't ride without!
P.S. – Olympia has 9 different styles of touchscreen gloves, some with free shipping.  For the best selection, visit an Olympia dealer … or our online store.
Collection 2019
Sale 70% Off
Third slide