Touchscreen Motorcycle Gloves That Work With Your IPhone, Droid & IPad
Posted by ROGER HEUMANN
There is a long list of touch screen functions we perform everyday. From making a quick call, texting, using the ATM and accessing the internet using our Droids, iPads, iPhones and more. These capactive touchscreen devices are easy to use with the naked hand, but can create frustration when it comes to wearing motorcycle gloves and attempting to utilize such high tech devices.
We all know how frustrating it can be when you're all set to ride and you need to make that last minute call, text or get directions to your destination. You take the gloves back off, put them on the bike, they slip, falling to the floor and your back to square one all because your gloves block the energy generated by the skin that makes the touch screen work.
A hassle-free solution to this problem is easily solved with a simple pair of gloves designed for use with capactive touchscreen devices!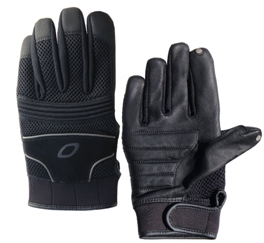 The #730 Smart Touch motorcycle gloves are designed to create conductivity with matalized fibers that channel energy. Simply put, these gloves conduct the energy given off at your fingertips to flow through the glove to the device.
When gloves need to be insulated for cold weather,  it's an even greater challenge to keep the same level of  tactility. The answer is a soft conductive touch pad built into the outer shell of the #730 Smart Touch glove.  This creates a touch point that makes it easy to hit the right spot.
The Olympia #730 Smart Touch gloves give you thumb and forefinger access to all your capacitive touch screen devices! The #730 and #735 use a small dot on the forefinger and thumb so that it creates an even more accurate touch than a finger or a glove that does not have the small dot.
Here are some additional features of the #730 and #735 Smart Touch motorcycle gloves…
Full mesh back allows for maximum air flow
Designed with a leather palm
S, M, L, XL, XXL sizes available
Have you tried other touch screen motorcycle gloves? Were they up to the task? Worth the money? Tell us your thoughts in the comments below.
Collection 2019
Sale 70% Off
Third slide