Waterproof Motorcycle Gear To Keep Riders Safe And Dry
Posted by ROGER HEUMANN
THE RAIN is inevitable — If you ride, be prepared for the unexpected downpour. 

Whether the forecast gets it right, or not —

To stay comfortable and dry, the right motorcycle gear makes a big difference.
Here's how to make a solid choice.
WEAR WATERPROOF GEAR
Say goodbye to cold, clammy, leaky and bulky.
Good waterproof gear should be none of those things. When high quality materials are used and the gear is made correctly, you'll stay dry.
1.  A Word About Waterproof Gear
Comfortable, rainproof outerwear will have Gore-Tex® or some other waterproof, BREATHABLE material as part of the construction to keep you warm and dry.
Without getting technical, the film used in making these materials is designed to keep water out, and engineered to be breathable, for comfort.
Gore-Tex is the leader in waterproof protection … Their "Keep You Dry" promise says that if you are ever dissatisfied with a finished product with Gore-tex, they will repair or replace it free.
There are other brands of waterproof protection as well, for waterproof gear that will suit every budget.
1. Waterproof Rainsuits:  breathable, lightweight, and dry.
Rain suits shouldn't take much room once they are rolled up, which means that you can wear them if rain is in the forecast, or pack them, if it isn't. 
Whether you check out the waterproof suits made by our sister company Olympia Motosports —  or find another solution — today there's good waterproof rainsuit for every budget with these qualities.
2. Waterproof Motorcycle Gloves: keep hands dry and comfortable — because wet hands are cold hands.

Traditionally, waterproof protection in motorcycle gloves is based on the insert stitched between the outer shell and the lining of the glove, and how the seams are sealed.
We make 3 levels of waterproof gloves (with Gore-Tex, Aquatex or DriLock) — for different budgets.
Gore-tex® Gloves:
 Posess the highest degree of breathability, fully waterproof, windproof,. They also feature insulating qualities. Gore-tex gloves are the most advanced barrier to keep you dry
.
Gloves made with

 

Aquatex:
Fully waterproof, windproof & breathable, a great choice because they keep your hands more comfortably dry. Breathability decreases moisture and hands from sweating. 
Gloves made with Dri Lock: Completely waterproof and windproof, but not breathable. Designed for riders who need a proven barrier against wind, and a way to stay dry in rain.
All of these gloves will have sealed seams, and barriers that will keep you dry, but where they differ is in their degree of breathability.  Keep in mind that the most breathable materials will also be the most comfortable and keep your hands from feeling clammy.
3.  6 Rider Tips to Keep Safe and Dry
When it comes to equipping yourself to stay dry, here are some other useful tips for planning and packing for wet rides:
Tip: Run the shower over your clothing to check for leaks.
Wear a face mask so the raindrops don't sting your face at 65 mph
Make sure to put your jacket cuffs OVER the gloves in the wet, or rain just runs down into them!
Transfer wallet, keys, and other essentials to waterproof outside pockets.
Pack your rainsuit on top of your saddlebag, and stow a trash bag with you to cover the odd item just in case of bad weather along the route.
Spraying Rain-X keeps the rain off your helmet's visor, and we have heard (but cannot attest to it) that wiping your visor with a dryer sheet can also keep it from fogging up.
For more tips about riding in the rain, you may like:
What do you do to prepare for inclement weather?  Do you have any tips for riding on a rainy day? Leave a comment, and ride safe!
For Waterproof Motorcycle Gloves …

We make over 70 styles of gloves,= and 18 styles of waterproof motorcycle gloves, some with free shipping, for every budget (see below).
To learn more about our windproof motorcycle glove styles, visit a local dealer or our online store:For some good choices visit your local dealer … or to take advantage of visit our online store.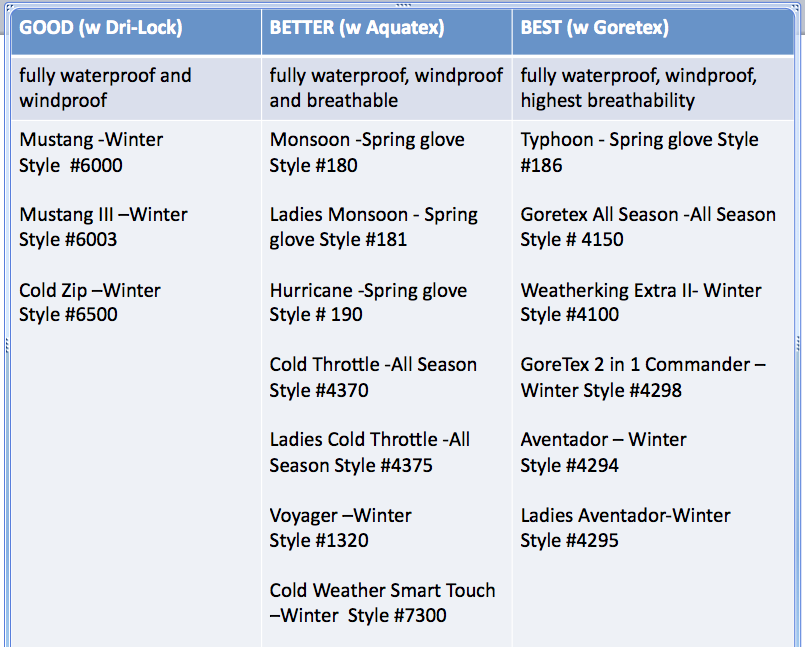 Collection 2019
Sale 70% Off
Third slide