What Makes A Good Waterproof Motorcycle Glove?
Posted by ROGER HEUMANN
Riding in Rain
 In an online motorcycle rider's group, the conversation turned to wet weather gear. Specifically, what's the best moderate priced gear to wear when riding in the rain.
Fellow riders expressed a range of opinions about what's best, from wearing fishing gear and ski gear, to wearing rubber gloves over or under other gloves!
 Well, we really don't advise wearing fishing gear when you ride, LOL …. but it raises the question … 
What makes a good waterproof motorcycle glove?
All Waterproof Motorcycle Gloves Are Not The Same

Lots of motorcycle gloves look the same on the outside. But, it's what's on the inside that makes the difference in a downpour.
The thing to realize it that there are important differences in comfort and performance among waterproof glove choices that look a lot alike.
For those of you interested in the technical side of things, here's what you need to know to choose the best motorcycle glove for rain.
Motorcycle Gloves for Rain

To make a waterproof motorcycle glove, a special waterproof insert goes between the body of the glove and the lining of the glove. As in all things, the properties of this insert differ greatly, and this is reflected in the price.
Basically, there is good (Dri Lock) better (Aquatex) and best (Goretex).
Dri Lock

 

is fully waterproof and windproof
Aquatex 

 

is fully waterproof, windproof AND breathable
Gore-tex

 

is fully waterproof, windproof and has the highest degree of breathability* of any insert.
*Breathability helps your hands not perspire, important when it comes to comfort while riding.
Olympia has been making motorcycle gloves for almost 75 years, and makes styles with all 3 types of waterproof inserts, to satisfy a range of rider preferences.
 At the end of this post, you'll find a list showing just which Olympia styles have waterproof qualities.
The Olympia "Waterproof Glove" Promise: Dry Hands!

Once you learn the differences in your waterproof motorcycle glove options, you can make a smart choice that works for how (and where) you ride.
Here's our promise: if you wear an Olympia waterproof glove, you may end up with a wet butt, but at least you'll have dry hands!  
 A Note About the "Bucket Test"
Will any old waterproof motorcycle glove keep your hand completely dry if you stick it in a bucket of water?  NO!  (Don't try this at home … just take our word for it).
Will a glove with a Gore-tex or other waterproof membrane pass this test?  Theoretically with a waterproof glove, if you tried this, the inside of the glove (your hand) should not get wet, because of the special waterproof membrane (unless seam seals that are broken due to a manufacturing defect or wear and tear). But we don't recommend it — here's why:
Note: With a waterproof glove, you should be able to take the bucket test — ie, plunge your hand into a bucket of icy water, and keep perfectly dry …. in theory, that is.  We don't recommend it

 

because fully saturating a glove like that will make it totally waterlogged (fully saturated and heavy) and take a long time to dry out. Especially a leather glove, if the leather is not specially treated to be waterproof, this is really not good for the glove.

P.S.  Here's a list of Olympia Glove waterproof glove styles, sorted by features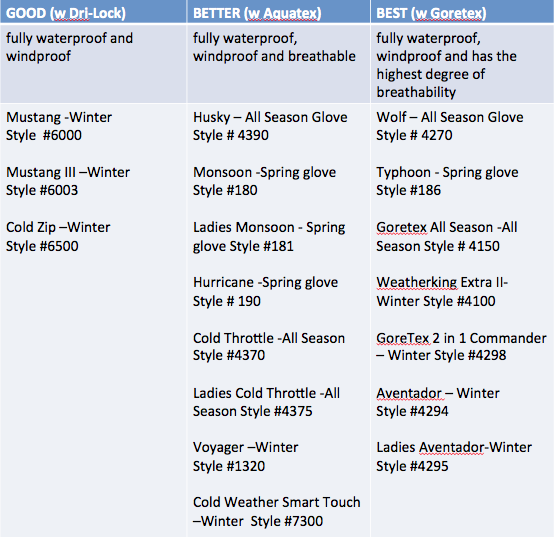 photo credit above: hannah constantin

P.S. We make over 70 styles of gloves, many waterproof, and some with free shipping. To learn more about our waterproof motorcycle glove styles, visit a local dealer or our online store:
Collection 2019
Sale 70% Off
Third slide