Windproof Vs. Waterproof Motorcycle Gloves: FAQ's
Posted by ROGER HEUMANN
So, what does "windproof" vs. "waterproof" really mean when it comes to motorcycle gloves? 
We're glad you asked! 
Here's an explanation of the technology behind those terms, and the options that are available for motorcycle riders.
What's a "Windproof" Motorcycle glove?
The basic technology for windproof motorcycle gloves is this: the outer shell or inner lining material is laminated with a waterproof and breathable film.  Adding this laminated layer is an effective barrier against wind.
Even though the film is technically waterproof, we don't call gloves waterproof unless the seams are also sealed. 
To find gloves in this category, look for the following labels:
WindStopper:

 

a windproof lamination made by W.L. Gore, the same company that makes Gore-Tex
WindTex: another brand of windproof lamination
Gloves in this category make riding in blustery conditions more comfortable.
But when the weather turns wet, waterproof motorcycle gloves are required, with or without extra insulation, depending on the time of year.
What Makes a Glove Waterproof?
The basic technology for a waterproof glove: a special insert is placed between the the outer shell and inner lining of the glove.  This material is waterproof, and with more advanced materials breathable as well.  This insert is well-sealed and the seams are sealed too, so no water will penetrate to hands.
When you want waterproof gloves, look for either the Gore-Tex, Aqua-Tex or Dri-Lock label.  What separates these technologies is their breathability.
Why is  Breathability Important for Waterproof Motorcycle Gloves?
Breathability dissipates moisture, and keeps your hands from sweating, an important comfort factor while riding.
Gloves with Dri Lock are fully waterproof and windproof …

 

but not breathable.  They are for riders who need a proven barrier against wind, and a way to stay dry in rain.
Gloves with Aquatex are fully waterproof, windproof AND breathable … they keep your hands more comfortably dry. 
Gore-tex gloves are

 

windproof, waterproof

 

and have the highest degree of breathability of any glove.

 

Gore-tex protection is the most advanced barrier to keep you dry.  It even adds some insulating qualities.
The chart below shows a selection of Olympia windproof and waterproof gloves.  
You can learn more about waterproof gloves here … and an expanded selection is available at your local Olympia Gloves dealership, and in our online store.
P.S. We make over 70 styles of gloves, many windproof and waterproof , and some with free shipping. To learn more about our windproof and waterproof motorcycle glove styles, visit a local dealer or our online store: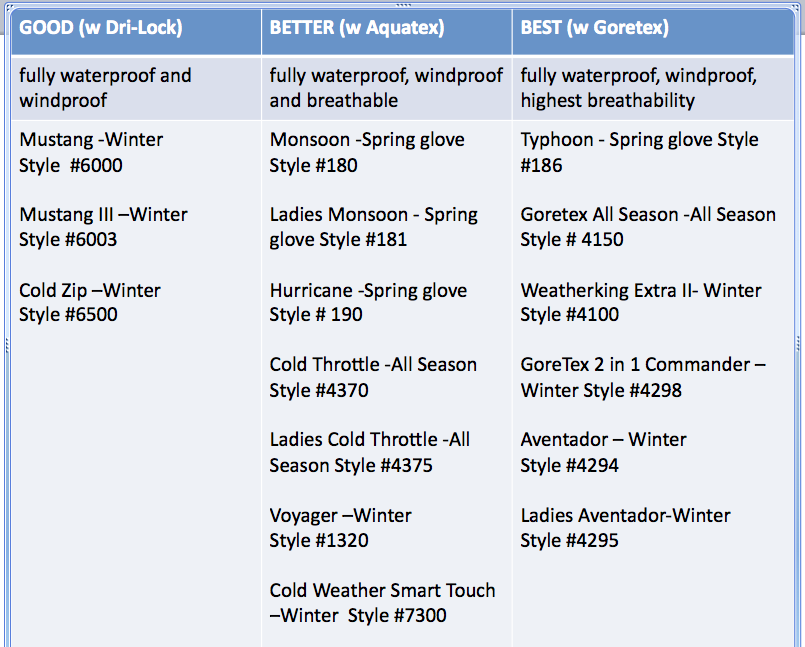 Collection 2019
Sale 70% Off
Third slide