Getting A Perfect Fit: Ultimate Guide To Motorcycle Glove Sizing
Posted by ROGER HEUMANN
Your hands are the primary connection between you and your motorcycle controls. Proper fit is essential.
Yet we hear all the time from riders with a glove fit problem.
Maybe their hands and fingers are shorter or wider or longer than average … but even if that's the case, there should be a glove that fits just right. 
Never settle for a poor fitting motorcycle glove …
Here's a guide to gloves that fit, to keep you protected, comfortable, and focused on the road. 
Perfect Glove Fit:  What to look for
Here are general guidelines to consider when choosing gloves.
To test a glove's fit, physically grab onto a real motorcycle grip as if you were riding. Making a closed fist is not an accurate feel because the hand is closed much farther than a standard grip.
Ideally, a motorcycle glove should fit snugly without feeling restrictive or tight in the knuckles, or cutting off circulation. Gloves should allow good movement, and have enough give to operate the controls and turn signals.
Your fingers should not be touching the ends of the glove; neither should glove fingers be too long.
There should not be any additional material bunching up in the palm area.
Glove Fit:  Leather vs. Textile
Leather will stretch around 5% with time and constant use, so they can start out a little snug. This will ensure a great fit once broken in.
Textiles will become softer over the life of the motorcycle glove, but will not stretch. As a rule of thumb (no pun intended!) if you're in between sizes, go the next size up if fabric. 
For a more visual guide to choosing a good fitting glove, check out this video.
Glove Fit:  for Racing, Touring, Cold Weather
Motorcycle gloves will vary in feel and fit, depending on their usage.
A

 

racing glove, designed for maximum dexterity and control on the track, will have more aggressive precurved fingers, and fit more snug.
A

 

touring glove, made for everyday and long distance riding, is designed for protection from the pavement and the elements; they should fit close, with good dexterity and feel of the controls.
Cold-weather gloves

 

will be bulkier because of additional layers of insulation, as well as the waterproof membrane layer that keeps hands dry. They should feel comfortable but not tight. You may want room to wear a glove liner in extreme cold.
For any type of riding, gloves should allow fingers a natural position for gripping the controls, and still feel comfortable after long hours on the saddle.
Fitting Gloves for Womens' Hands
Many companies offer a specific women's line tailored to the unique needs of the female hand — that's really best for proper fit. A women's hand is narrower in the palm, and has longer fingers — so a smaller men's glove won't do.
Follow this glove size guide for our women's glove styles.
Fit Variation By Brand: Which to Choose?
Different motorcycle glove brands vary in size and construction.  We can't tell you which brand to choose,  but to get the best-fitting gloves for your hands:
Try on several brands at least one size up or down to ensure the proper fit.
Once you have found a brand that works well with your hand size, stick with it!  It makes it much easier to select future styles.
When choosing a new pair of motorcycle gloves online, don't just depend on a glove size chart. Read online glove reviews. Talk to fellow riders about their perspective.
Deal with a company with a no-hassle return policy, since it's easy to goof on size even with careful research and checking measurements. It's why we get reviews like this:

"They arrived a little small, so I sent them back in exchange for the next size up. Great customer service and the new pair fits great. Super comfortable …"
Glove Size Charts: How To Measure Glove Size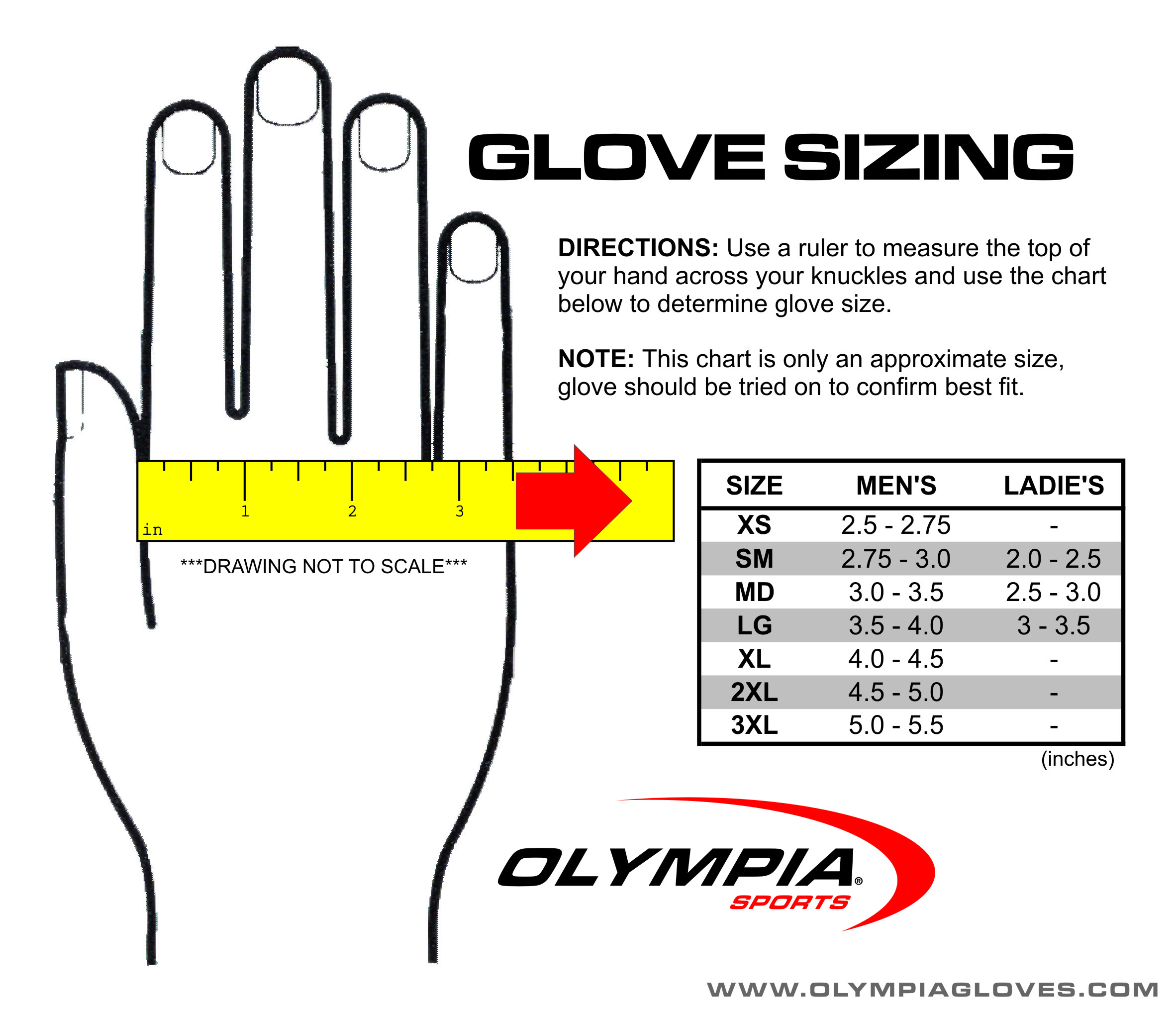 A word about online size charts:
1. Some charts say to put your hand flat on a tape measure, and measure the widest part of your hand — usually just below your knuckles.
Others tell you to measure the circumference of your hand with a soft measuring tape.
In either case, since your right and left hand may not be the same, measure both hands and go by the WIDEST measurement of the two. 
Note: For the most accurate glove fit, there's no substitute for trying gloves on.
 American vs. European Cut, Explained
Motorcycle glove sizes (and size charts) are geared for either European or American sizing.
American-cut gloves are more amply cut, while European-cut gloves tend to run smaller.
Go up 1 size for a European vs. an American glove.
Note: Olympia Gloves are American cut, so they will be cut larger than imported Euro brands. Here's our glove sizing chart.
Remember …
Nothing replaces trying on an actual pair.  For a a great fitting glove, get to your local motorcycle shop, find gloves that fit, and wear them!
Collection 2019
Sale 70% Off
Third slide