Vegan Leather Gloves: 3 Summer Options For Motorcyclists
Posted by ROGER HEUMANN
When summer temperatures climb into double and triple digits, the vegan rider has the same concerns as any other:  It's a challenge to dress for safety, comfort and protection, and keep cool.
But if you know what to look for, there ARE great vegan motorcycle glove choices with cooling and sweat-wicking properties, in addition to not using animal products.
Below, we explain which vegan gloves are particularly good for summer rides  — with features like venting, mesh, fingerless construction and more — and what to avoid as the mercury climbs.
Vegan Leather Alternatives: Synthetic Leather, Other Man-Made Materials
To quote Rich Bebenroth author of the Veganmotorcyclist.com Gear Guide, "in order for a product to be truly vegan, it has to not only not contain any animal products in it, but it also needs to be produced as environmentally-friendly as possible, as well as being cruelty-free to the people who are making it."
Gloves made of synthetic leather and other man-made materials are most certainly animal-free and will satisfy ethical concerns.
Problem is, not all will keep you cool — for warm weather comfort, we also need airflow and materials that breathe.
3 Vegan Leather Gloves for Summer

Here are 3 vegan leather warm weather styles, with features that WILL do the job and cool you off during the "dog days" of summer.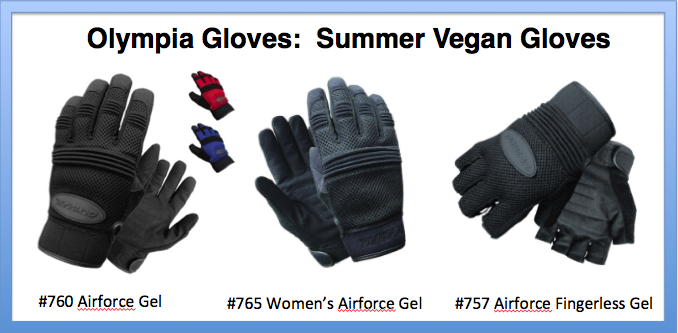 Olympia #760 Air Force Gel is a key style to have in your arsenal. Synthetic leather is tough enough forrugged roads. Solid mesh backing amplifies airflow. Terry cloth around the thumb makes it easy to wipe away perspiration. People suffering from hand numbness/fatigue will appreciate the gel padded palms developed to decrease any vibrating feeling. Tough construction with outstanding reinforced stitching make this glove an all-around style for daily street rides, sporting or touring.
Olympia #765 Ladies Air Force Gel is the women's version of the above glove.
features a cool mesh back for airflow, a gel-padded, synthetic leathe
r palm for shock absorption andfingerless to boot. The manmade neoprene cuff, adjustable Velco strap for fitting securly and and terry cloth sweat wipe make this style very popular in dry hot and humid climates. Plus, this durable glove is washable.
One note: In the summer, avoid cotton gloves and cotton linings — since cotton will not wick sweat away from your skin and you'll end up with clammy feeling hands!
Chill Your Ride (Beyond Summer Motorcycle Gloves)

We all know it's tricky riding in the summer and keeping cool. Do you turn to cooling vests and collars? Or go old school with a bandana soaked in water under your helmet?
For dozens of excellent summer riding survival tips, check out our recently published Summer Riding Survival Guide .

Vegan or not, ride safe this summer and keep those paws cool!
PS –
For more information on this topic:

And, check out our collection of vegan motorcycle gloves for cold weather … fall will be here before you know it … and for a limited time, all GEL PADDED styles get free shipping until September 2.

Ride Safe!
Collection 2019
Sale 70% Off
Third slide