Waterproof Motorcycle Gloves: 6 Tips For Riding In The Rain
Posted by ROGER HEUMANN
With Spring here, riding season has begun. With Spring comes wet weather.
Most riders don't want to get caught in the rain, but some riders enjoy the rush. Whatever your level of expertise is while riding in the rain, use general precautions and ride safe.
Here are 6 tips for riding a motorcycle in the rain:
Be careful of the lines painted on the road and crosswalks. These are slick surfaces posing dangerous outcomes when the rain is coming down.
Don't cheat yourself out of good tires. Cheap, longer lasting tires have terrible textures that do not grip well to the slick roads. Spend the money on tacky tires so you can stay on two wheels.
Be watchful for smooth surfaces such as parking lots. These surfaces become slippery when wet. Ride slow. Ride straight.
You also need to look out for metal or steel surfaces such as railroad crossings or manhole covers. These surfaces can be hard to see and can become dangerous in the rain.
Make sure you do not make sudden lane changes to avoid them, just keep on riding slowly and cautiously.
Always remember that the oil on the roads can create havoc as well. Oil that has been rained on is ten times slipperier.
Good Waterproof Motorcycle Gloves Keep Hands Dry
For better grip on your handlebars during monsoon season, take a look at our Waterproof motorcyle gloves collection — 18 styles that are built to last in rainy weather with waterproof inserts (Gore-tex, Aquatex, or Dri-Lock) for dry hands and comfortable rides no matter what Mother Nature sends your way.
Play it safe this Spring. Rainy weather doesn't have to be avoided, but extra caution should be used.
For better control on wet roads, follow our "riding in the rain" tips — and keep the proper gloves at hand, to keep you more comfortable as you go.
What's in your gear bag when you get caught in the rain?
P.S.  Here's a list of Olympia Glove waterproof glove styles, sorted by features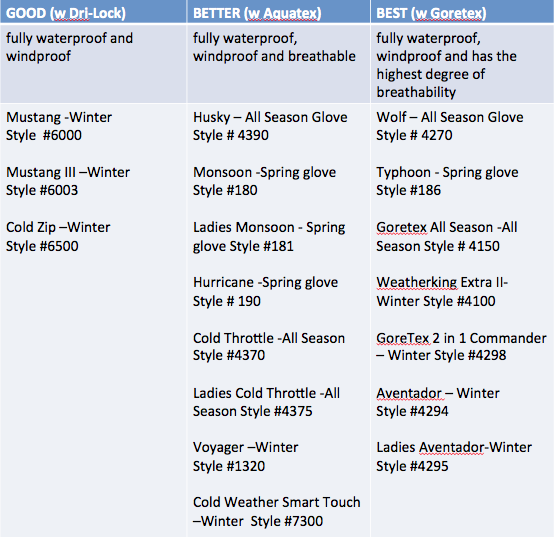 P.S. We make over 70 styles of gloves, many waterproof, and some with free shipping. To learn more about our waterproof proof motorcycle glove styles, visit a local dealer or our online store:
Collection 2019
Sale 70% Off
Third slide