Glove Buying Guide For Women Motorcycle Riders
Posted by ROGER HEUMANN
Women motorcycle riders need gear and apparel made specifically for them. Motorcycle gloves are no exception.
Women riders experience the same temperature extremes, numbness and fatigue from vibration, and need for hand protection as male riders.
But, women often have smaller hands and longer fingers than men and need a women's motorcycle glove, not just a small men's glove.
Here are the inside tips on how to find the perfect motorcycle glove to fit your hands, and your riding needs.
Choosing the Right Motorcycle Glove 
There are a few important points to consider before you start shopping. Browsing a selection of women's motorcycle gloves and reading the specs and details can give you an idea of what you have to choose from.
While most riders will need more than one pair of motorcycle gloves, one great pair can often do the trick.
Determine Use
There are several factors to consider here, including weather, seasons and climate, and type of riding.
If you'll be riding mostly in places with temperature extremes, choose an insulated leather glove — or even a heated glove — for cold temps and a breathable fabric or ventilated glove for warmer temps.
Long-distance touring? Get a glove with gel inserts to dampen vibration.
Daily commuters and year-round riders will want all-season gloves with plenty of protection for various traffic scenarios.
Find Your Size
Buying the right size motorcycle glove is crucial.
First, measure your hands for the perfect fit.
After that, find the individual manufacturer's sizing chart or info, and look for notes or reviews that mention sizing, including if the glove runs big or small.
Refer to recommendations from our Motorcycle Glove Sizing Chart.
And, read our Women's Motorcycle Gloves: The Right Fit for Smaller Hands blog post for additional size information.
Address Specific Needs
If you have specific requirements that your gloves need to meet, now is the time to nail them down.
Cold fingers?
Stick with leather or insulated gloves.
Vibration bother you?
Shop for gloves with gel palms to minimize vibration.
Suffer chapped skin?
Choose leather over synthetics for better wind resistance.
Need rain protection? Go with a medium to heavy weight leather glove or one made water-resistant synthetic fabric.
Use electronics? Fingerless gloves are an option, although they offer much less in the way of protection. Gloves with touchscreen technology and "grippy" textured palms and fingers are a better option.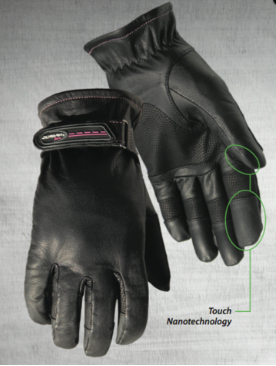 Olympia 110 LT Lined Women's Rose "Touch" Gloves
Set a Budget
You don't have to spend a fortune to get good motorcycle gloves, but like most things you get what you pay for.
Most good gloves run from $50 up to $100 or more, depending on materials, features and construction. However, you can also find some great motorcycle gloves under $50. 
Higher priced gloves may be more protective or constructed from premium materials, like Gore-tex or a higher grade of leather … or might just be a brand that is imported or has higher marketing and distribution costs.
Set a maximum dollar amount and get the best gloves you possibly can for your needs.
Check Reviews
Finally, check customer reviews before you make your purchase.
Focus on reviews that describe the specific features you're looking for, or those from reviewers who are riding in conditions similar to yours.
And if you have a pair you love, consider leaving an online review for other riders to learn from!
Do you have a glove preference?
If you love a specific motorcycle glove feature – leather or synthetic, long or short, lined or unlined – or have a pet peeve about women's riding gloves — we'd love to hear about it in the comments.
P.S. Olympia makes 11 riding glove styles specially for women — 6 with free shipping until 9/2. Visit your local dealer, or our online store.
Ride Safe!
Collection 2019
Sale 70% Off
Third slide